A complementary team
In addition to our Chiropractic services, we have a large network of other therapists' available onsite.
We are strong believers that everyone has hold of an element of the truth with back pain – we are constantly evolving and learning and sharing. We have a philosophy of open-mindedness which allows us refer to the right person for the benefit of the patient and as a result, we have a complementary team who work extremely well together.
The therapists onsite at Lee Road, Blackheath are:
Laura Borghi
Qualified Nutritionist, Kinesiologist, Reiki & Seichem Practitioner
Laura is a Qualified Nutritionist, Kinesiologist, Reiki & Seichem Practitioner.
She is a member of BANT and CNHC registered.
Laura is passionate about Bach Flowers and Essential Oils and also has a certificate in Aromatouch Technique.
Lucy Swann
Pilates Instructor
Why Pilates?
Pilates aims to work your deep intrinsic musculature – the muscles responsible for your posture, stability, balance and safe joint function. These muscles are targeted by a focus on good skeletal alignment and maintaining this while moving.
As a result, Pilates promotes healthy bones, good posture and lean muscle, and evenly balances strength with flexibility.
Pilates gives you the opportunity to be kind to your body (and brain), utilising functional breathing to facilitate movement, reduce tension and aid relaxation and focus.
Pilates is great for everybody and is often recommended by medical specialists. It is a great way to look after your body whether you are experiencing aches and pains, stress, recovering from an injury, are an athlete or are simply looking for a way to be fit and active. It is completely tailored to your body and your goals.
About Lucy
Lucy is based in South London and discovered Pilates over ten years ago during her dance training. She is able to offer private sessions in your home on a 1:1 basis, for duet sessions or for small groups.
Lucy began her Pilates teacher training with Body Control Pilates in 2015 and shares their vision to make Pilates accessible and safe for all. Her own experience has allowed her to manage an existing joint condition, preventing injury and reducing pain.
She is qualified as a Level 3 Pilates Instructor – the UK Pilates industry national standard – and continues to deepen her knowledge through regular further training.
A private session is a great way to start. For availability and prices please get in touch.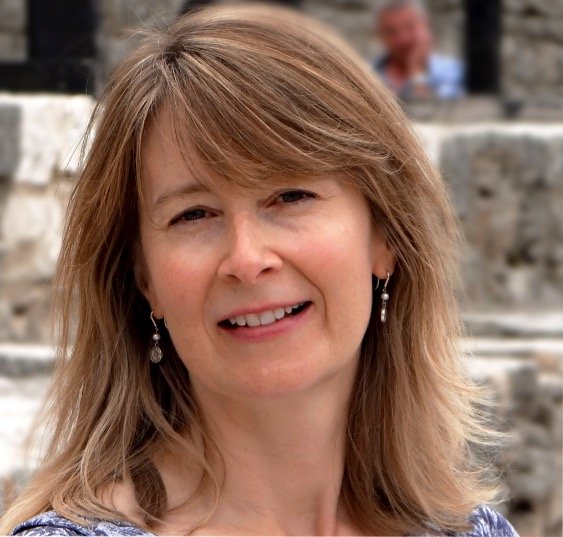 Emma Charley
B.sc (Hons) H.C.P.C Registered Podiatrist
Emma graduated with a first class degree in Podiatric Medicine from the University of Westminster. Subsequently, Emma worked in the NHS for 14 years at Queen Mary's Hospital, Sidcup
During this time Emma established her own practice in Lee Green which she has run successfully since 1999.
With over 25 years clinical experience, Emma understands that feet can provide early indications of seemingly unrelated conditions such as diabetes, vascular disease, kidney problems, arthritis and anaemia.
Emma treats many common foot problems including: corns and calluses, bunions, nail disorders, chilblains and infections such as verrucae and athletes foot.
Additionally Emma can provide advice and recommendations on related issues such as footwear and biomechanics.
Emma continues her professional development through seminars and events to ensure the best treatment for her clients. She is a member of both the Society of Chiropodists and Podiatrists and the Health and Care Professions Council, which ensure rigorous standards in practice and ethics.
Dominique Mirabel
Relaxation massage
Mariangela Cordovana
Massage Therapist
Liselotte Rolander
Homeopath
Why have Acupuncture?
More and more people are turning to Acupuncture to help resolve their health problems due to its profound and positive impact on mind, body and spirit. It is one of the oldest, tried and tested holistic systems of medicine.
When imbalances and disharmony in the body occurs, meridian channels that run throughout the body become blocked. Acupuncture helps to remove these blockages, promote the smooth flow of qi (energy) throughout the channels and restore health.
Regular acupuncture can help treat many conditions. Some of the more common complaints treated include: Stress and anxiety, fertility and IVF support, pain management, sports injuries, headaches, digestion problems, menstrual and menopausal symptoms.
About Samina
Samina is a fully qualified Acupuncturist and Naturopath based in SE London. She spent 4 years training in TCM Acupuncture (Traditional Chinese Medicine) and Naturopathy at The College of Naturopathic Medicine, London and has undergone post graduate training in fertility and assisted reproduction, sports injuries and pain management. She is a fully insured member of the British Acupuncture Council and a member of the Acupuncture Fertility Network.
Treatment
Samina uses a variety of modalities within TCM medicine and Naturopathy as part of the treatment plan. These includes ear acupuncture, electro-acupuncture, cupping, gua-sha, moxibustion, Bach Flower remedies and nutrition. After the initial consultation with the patient, she will tailor the treatment method(s) used according to the individual's needs and diagnosis.
There are many factors that can upset our natural balance, such as stress and injury, that leads to disharmony in body. By identifying the root cause of the patient's complaint, Samina's treatments aim to not only ease the physical symptoms of the individual patient, but to restore overall balance and harmony to the body and mind.
Booking info:
To book an appointment or any enquiries please contact Samina directly.
Email:
Phone: 07380 804565
The therapists onsite at Green St Green, Orpington are:
Whatever your age, fitness level or body shape it's never too late to start thinking about healthy living. Learning to live a healthier lifestyle is easy when you change one small thing at a time. Should you require further health tips, on posture, nutrition or many more subjects, please consult our partners in health website: LiveWell UK
Should you require a Chiropractor or have any questions, please do not hesitate to contact us on 020 8463 0607 or 01689 889 492. Alternatively, you can email us via the contact page