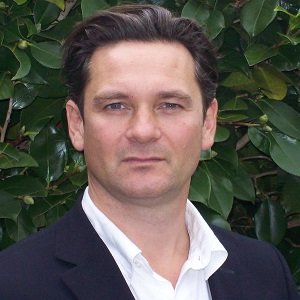 One of our four highly qualified Chiropractors, Jean-Baptiste Garrone graduated in 1992 from Palmer Chiropractic College West, USA. He specialised initially in gentle approaches of Chiropractic treatments Network, DNFT (directional non-force technique) and used these in private practices in France and then Italy.
He came to England in 1997, opened his own clinic in Blackheath in 2000 and in 2007 acquired the Green St Green Practice. He now divides his time between the two clinics. Jean-Baptiste's particular interests are, amongst others, the approach of Chiropractic with children, the impact of Chiropractic adjustments on the immune system and non-mechanical symptoms.
His techniques of correction vary from high velocity and force to very gentle accurate thrusts. He incorporates cranial work, postural analysis and visceral corrections when necessary.
Precise and clear diagnosis
Jean-Baptiste, or JB as he is known by many, was inspired to study Chiropractic because of its continual scientific development and sees himself as a nervous system specialist, rather than a manipulator of the spine. His expertise and experience enables him to understand the implications the nervous system has on every aspect of the human body, with some 85% of nerve compressions in the spine having an adverse effect somewhere else in the body. With the advances in technology, scientists are gaining a greater understanding in the complexities and vast capabilities of the central nervous system and Jean-Baptiste finds this exciting in terms of chiropractic development. It means the discipline of chiropractic is constantly and continually evolving scientifically in the way it offers treatment to patients. The technology offers a precise and clear diagnosis, which is never assumptive, and this ensures every patient has a treatment plan, tailored to their very specific needs.
Central to any treatment regime is counseling patients about wellness concepts, such as nutrition, exercise and life style changes and the practice has built a nucleus of complementary onsite therapists. With the precision offered by diagnostic tools, JB can demonstrate if the chiropractic route is the correct treatment regime for his patient and if this is not the case, he will consult or refer his patient to the appropriate, experienced therapist. This holistic approach displays integrity and a strong belief that in all things, the care of the patient is paramount.
He is passionate about learning in order to share, challenge and progress the science of chiropractic. This involves attending seminars and reading research papers, which enhance the successful management and treatment of patients. JB also appreciates the importance in investing in new diagnostic tools such as EMG Scanners and digital X-ray machines to enable the practices to provide a clear and accurate diagnosis.
Positive and beneficial effects
He enjoys the variety and diversity of clientele and his ability to have a positive and beneficial effect, in terms of pain relief / management, functionality and lifestyle. JB has a particular interest and area of expertise in the treatment of babies and children.
Please do not hesitate to call if you have any questions for Jean-Baptiste regarding chiropractic treatment. Please call on 020 8463 0607 or 01689 889 492.